MET 2019/2020 - Richard Wagner: Der Fliegende Holländer
New production! Opera Broadcast from New York on 3rd of May 2020
3 may 2020 18:00 - 20:20
Location: Díszterem


***
Due to the COVID-19 pandemic, the screening program of the MET LIVE in HD 2019/20 season at Urania National Film Theatre has changed. The remaining three premieres of the season– Der fliegende Holländer (14.03.2020, 22.03.2020, 03.05.2020), Tosca (11.04.2020, 26.04.2020, 24.05.2020) and Maria Stuarda (09.05.2020, 17.05.2020) – have been canceled at the Met, therefore these broadcasts with all their planned encores will be cancelled at Urania. Tickets purchased online will be refunded by Interticket Kft. and Jegymester Kft. – please be aware that due to the pandemic, the refund process can take longer than normally. For tickets purchased at Urania's cash desk, asking for a refund will be possible after the reopening.
Thank you for your understanding!
***

François Girard, whose mystical, blood-drenched vision for Wagner's Parsifalbecame one of the Met's most intensely visceral highlights in recent seasons, turns to another Wagnerian masterpiece, Der Fliegende Holländer, conducted by Valery Gergiev. For the first time at the Met, Evgeny Nikitin sings the role of the mysterious Dutchman, condemned to roam the seas for eternity, with Anja Kampeas the devoted Senta, whose love can set him free. In a nod to Senta's obsession with a portrait of the legendary title seafarer, the Met stage is transformed into a colossal oil painting. Franz-Josef Seligportrays Senta's father Daland, Sergey Skorokhodovtakes on the role of the huntsman Erik, David Portillosings the Steersman, and Mihoko Fujimurais Senta's nurse Mary. Der Fliegende Holländeris a co-production with L'Opéra de Québec and Dutch National Opera, Amsterdam.


Metropolitan Opera HD Live 2019/2020>>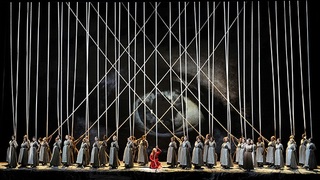 Director:
François Girard
Conductor: Valery Gergiev, Set Designer: John Macfarlane, Costume Designer: Moritz Junge, Lighting Designer: David Finn, Projection Designer: Peter Flaherty, Choreographer: Carolyn Choa, Dramaturg: Serge Lamothe
Cast: Anja Kampe (Senta), Mihoko Fujimura (Mary), Sergey Skorokhodov (Erik), David Portillo (Steuermann), Evgeny Nikitin (Holländer), Franz-Josef Selig (Daland) - Cast change: Due to Sir Bryn Terfel's illness, Evgeny Nikitin will sing the part of the mysterious Holländer.