MET 2019/2020 - G. Donizetti: Maria Stuarda
Broadcast from the Metropolitain Opera on 17th of May 2020
17 may 2020 18:00 - 20:30
Location: Díszterem


***
Due to the COVID-19 pandemic, the screening program of the MET LIVE in HD 2019/20 season at Urania National Film Theatre has changed. The remaining three premieres of the season– Der fliegende Holländer (14.03.2020, 22.03.2020, 03.05.2020), Tosca (11.04.2020, 26.04.2020, 24.05.2020) and Maria Stuarda (09.05.2020, 17.05.2020) – have been canceled at the Met, therefore these broadcasts with all their planned encores will be cancelled at Urania. Tickets purchased online will be refunded by Interticket Kft. and Jegymester Kft. – please be aware that due to the pandemic, the refund process can take longer than normally. For tickets purchased at Urania's cash desk, asking for a refund will be possible after the reopening.
Thank you for your understanding!
***
Donizetti's drama, focused on the political and personal rivalry between two queens, returns to the Met with Diana Damrau as the doomed Mary, Queen of Scots, and Jamie Bartonas her rival, Queen Elizabeth I. Stephen Costellosings the role of Mary's lover, Leicester; Andrzej Filończykis the chancellor Cecil; and Michele Pertusi sings the Earl Talbot. Maurizio Benini conducts Sir David McVicar's sweeping production.
Metropolitan Opera HD Live 2019/2020>>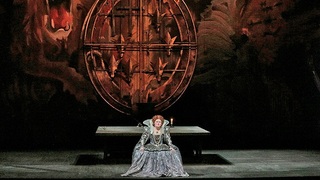 Director:
Sir David McVicar
Conductor: Maurizio Benini, Set Designer: John Macfarlane, Costume Designer: John Macfarlane, Lighting Designer: Jennifer Tipton, Choreographer: Leah Hausman
Cast: Diana Damrau (Maria Stuarda), Jamie Barton (Elisabetta), Stephen Costello (Leicester), Andrzej Filończyk (Cecil), Michele Pertusi (Talbot)