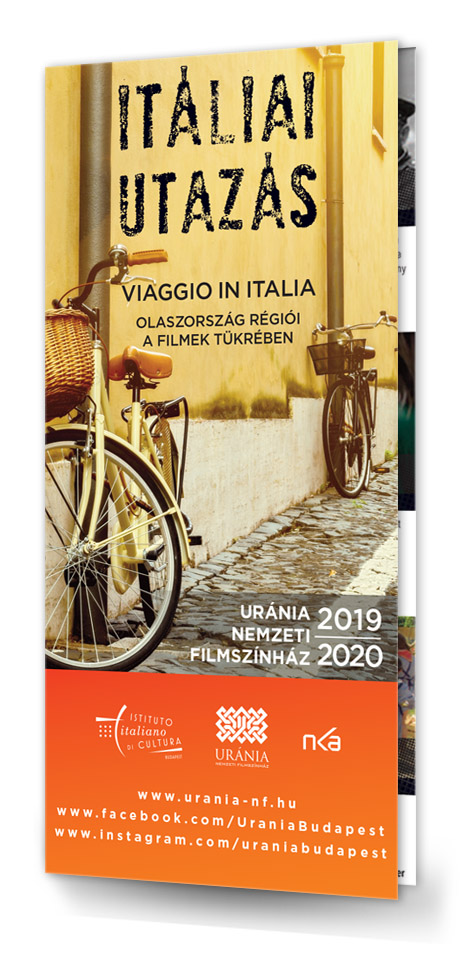 Further screenings announced for Spring 2020 will be POSTPONED due to the COVID-19 pandemic. The new screening dates of the series will be set and announced after the state of emergency has concluded. Tickets booked for the events will be valid for the rescheduled dates. For those whom the new dates are not suitable, a ticket refund will be available. Thank you for your understanding!
***
The journey goes on... from Trentino/Alto Adige to Campania, from Emilia-Romagna to Lomberdia, from Friuli to Sicily... A screening series consisting of 14 movies shot around Italy, telling stories of the people living in the different regions, organizated by both the Italian Cultural Institute of Budapest and the Urania National Film Theater.
Each of the movies will be with original voice, with Hungarian subtitles.


PROGRAM:

December 2, 2019, 8:00 pm
Everybody's Fine / Stanno tutti bene - OPENING SCREENING
italian-french feature film 1990, 118 min
in Italian language with Hungarian subtitles
director: Giuseppe Tornatore

December 14, 2019, 5:30 pm
Zoran, My Nephew the Idiot / Zoran, il mio nipote scemo
italian-slovenian-french comedy, 2013, 106 min
in Italian and Slovenian language with Hungarian subtitles
director: Matteo Oleotto
December 28, 2019, 6:30 pm
The Way We Laughed / Così ridevano
italian feature film, 1998, 124 perc
in Italian and French language with hungarian subtitles
director: Gianni Amelio
January 6, 2020., 6:30 pm
Fräulein - A Winter Tale / Fräulein, una fiaba d'inverno
italian feature film, 2016, 93 min
in Italian and German language with Hungarian subtitles
director: Caterina Carone

January 20, 2020, 6.30 pm
Amarcord - FELLINI 100
italian-french feature film, 1973, 127 min
in Italian language with Hungarian subtitles
director: Federico Fellini

February 3, 2020, 6:30 pm
Martin Eden
italian-french-german feature film, 2019, 129 min
in Italian, Neapolitan and French language with Hungarian subtitles
director: Pietro Marcello

February 17, 2020., 18:30
Rocco and his Brothers / Rocco e i suoi fratelli
italian-french feature film, 1960, 169 min
in Italian language with Hungarian subtitles
director: Luchino Visconti

March 2, 2020., 6:30 pm
Dafne
italian feature film, 2019, 94 min
in Italian language with Hungarian subtitles
director: Federico Bondi

March 16, 2020., 6:30 pm
The Garden of the Finzi-Continis / Il giardino dei Finzi Contini
intalian-BDR feature film, 1970, 94 min
in Italian language with Hungarian subtitles
director: Vittorio De Sica

March 30, 2020., 6:30 pm
Welcome to the South / Benvenuti al Sud
italian-german comedy 2010, 101 min
in Italian language with Hungarian subtitles
director: Luca Miniero

April 20, 2020., 6:30 pm
Hands Over the City / Le mani sulla citta
italian-french feature film, 1963, 105 min
in Italian language with Hungarian subtitles
director: Francesco Rosi

4 may 2020., 18:30
Marianna Ucrìa
italian-french-portuguese feature film, 1997, 108 min
in Italian language with Hungarian subtitles
director: Roberto Faenza

May 18, 2020., 6:30 pm
The Mayor of Rione Sanità / Il Sindaco del Rione Sanità
italian thriller, 2019, 115 min
in Italian language with Hungarian subtitles
director: Mario Martone

June 8, 2020., 6:30 pm
Mid-August Lunch / Pranzo di Ferragosto
italian comedy, 2008, 75 min
in Italian language with Hungarian subtitles
director: Gianni Di Gregorio
Regular ticket price: 1600 HUF
Discounted price for students, pensioners and teachers and for people buying tickets for at least 5 screening of the series at once: 1200 HUF