Shakespeare Day is a unique event in Urania National Film Theatre, marking the 400th anniversary of William Shakespeare's death.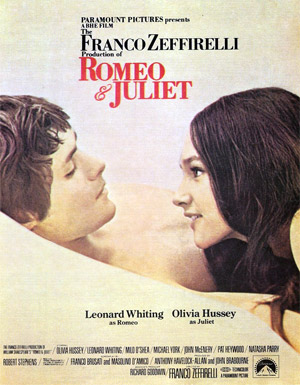 18:00 ROMEO AND JULIET - Directed by Franco Zeffirelli
Romance, Drama | Italy, USA, 138 min, 1968
in English, with Hungarian subtitles

The most beautiful film adaptation of Shakespeare's classic tale of romance and tragedy - directed by Franco Zeffirelli in 1968. Won two Oscars, for Best cinematography and Best costumes.
Two families of Verona, the Montagues and the Capulets, have been feuding with each other for years. Young Romeo Montague goes out with his friends to make trouble at a party the Capulets are hosting, but while there he spies the Capulet's daughter Juliet, and falls hopelessly in love with her. She returns his affections, but they both know that their families will never allow them to follow their hearts.

Details and online booking: http://bit.ly/Zeffirelli_Romeo-and-Juliet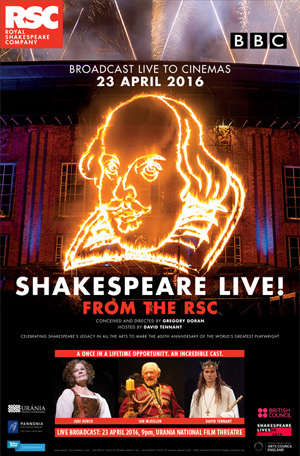 21:00 SHAKESPEARE LIVE! from the Royal Shakespeare Company

Before the live broadcast (starting az 21:15), Audrey Young, Director of British Council in Hungary and HE Iain Lindsay OBE, Her Majesty's new Ambassador to Hungary greets the audience. We kindly ask our guests to take their seats until 21:00.

Hosted by David Tennant on Shakespeare's birthday, and simulcast from Stratford-upon-Avon, the star-studded show SHAKESPEARE LIVE! celebrates Shakespeare's plays and their enduring influence on music, dance, opera, musical theatre and comedy.

RSC Artistic Director, Gregory Doran, is assembling a once-in-a-lifetime cast, including Benedirct Cumberbatch, Helen Mirren, Dame Judi Dench, Sir Ian McKellen, Roger Allam, Simon Russell Beale, Ian Bostridge, Sanjeev Bhaskar, Anne Marie Duff, Paapa Essiedu, Joseph Fiennes, Alexandra Gilbreath, Henry Goodman, the cast of Horrible Histories, Rufus Hound, Rory Kinnear, John Lithgow, Midlands Youth Jazz Orchestra, Tim Minchin, Alison Moyet, Al Murray, Pippa Nixon, Gregory Porter, Antony Sher, The Shires, Meera Syal, David Suchet, Catherine Tate, Rufus Wainwright, Harriet Walter, Akala (alias Hip Hop Shakespeare), Royal Ballet, English National Opera, Birmingham Royal Ballet, Orchestra of the Swan, to perform in a unique tribute to the genius and influence of the world's greatest playwright and storyteller.

The live broadcast is a part of Shakespeare Lives, an international initiative of the British Council.

Details and online booking: http://bit.ly/Shakespeare-Live-RSC

TICKET INFORMATION

Ticket for the film screening (at 6pm): 1400 HUF
Ticket for the live broadcast (at 9pm): 3600 HUF

Tickets are available on the spot and online by clicking the links above.