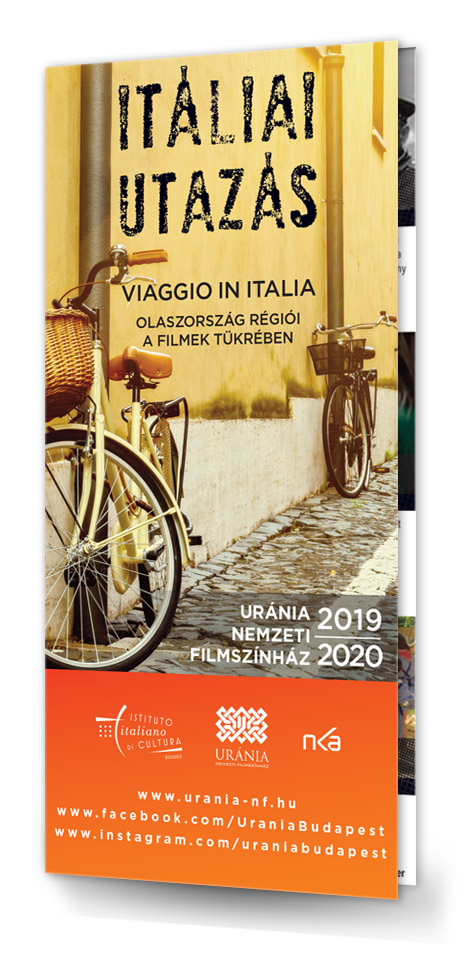 Due to the COVID pandemic, all Urania broadcasts of the Journey to Italy 2019/20 had to be portponed or canceled as of March 12, 2020.

Please note that our cash desks are open from 2pm on weekdays and 10.30am on weekends.
The remaining screenings (captured earlier) within the Journey to Italy 2019/20 season at Urania have been postponed. Below, you will find the new dates. Please be aware that tickets purchased earlier for these four performances are valid for the new dates, with no further administration.

For those who are not able or do not want to attend these performances, a ticket refund is available when asked for it previous to the last day before the new performance date. For tickets purchased online, please send an email to jegyvisszavaltas@urania-nf.hu with your name, the title and the original date of the performance and the bar code on the tickets in it For tickets purchased on the spot, you can ask for a refund at the cash desk in the cinema.

We look forward to your next visit and are happy to answer any questions you may have at info@urania-nf.hu

New performance dates for the postponed events

Oct 5, 2020., Monday 6:30 pm
Mid-August Lunch / Pranzo di Ferragosto
earlier: June 8, 2020., Monday 6:30 pm
italian comedy, 2008, 75 min
in Italian language with Hungarian subtitles
director: Gianni Di Gregorio

Oct 19, 2020., Monday 6:30 pm
Welcome to the South / Benvenuti al Sud
earlier: March 30, 2020., Monday 6:30 pm
italian-german comedy 2010, 101 min
in Italian language with Hungarian subtitles
director: Luca Miniero

Nov 2, 2020., Monday 6:30 pm
Hands Over the City / Le mani sulla citta
earlier: April 20, 2020., Monday 6:30 pm
italian-french feature film, 1963, 105 min
in Italian language with Hungarian subtitles
director: Francesco Rosi

Nov 30, 2020., Monday 18:30 /Postponed - This film will be presented in a new date.
Marianna Ucrìa
earlier: 4 may 2020., Monday 18:30
italian-french-portuguese feature film, 1997, 108 min
in Italian language with Hungarian subtitles
director: Roberto Faenza

Dec 14, 2020., Monday 6:30 pm / Postponed - This film will be presented in a new date.
The Mayor of Rione Sanità / Il Sindaco del Rione Sanità
earlier: May 18, 2020., Monday 6:30 pm
italian thriller, 2019, 115 min
in Italian language with Hungarian subtitles
director: Mario Martone

Dec 28, 2020., Monday 6:30 pm /Postponed - This film will be presented in a new date.
The Garden of the Finzi-Continis / Il giardino dei Finzi Contini
earlier: March 16, 2020., Monday 6:30 pm
intalian-BDR feature film, 1970, 94 min
in Italian language with Hungarian subtitles
director: Vittorio De Sica

Regular ticket price: 1600 HUF
Discounted price for students, pensioners and teachers and for people buying tickets for at least 5 screening of the series at once: 1200 HUF